As an Amazon Associate I earn from qualifying purchases.
Braunschweiger typically lasts for about 1-2 weeks in the refrigerator. Braunschweiger is a popular type of liver sausage that is enjoyed by many.
However, like any perishable food, it has a limited shelf life. If you're wondering how long you can keep braunschweiger in the refrigerator, you'll be pleased to know that it can last for approximately 1-2 weeks. This tasty sausage is made from pork liver, spices, and seasonings, which give it a unique and savory flavor.
Whether you enjoy it on sandwiches, crackers, or as a standalone snack, it is important to store it properly in the refrigerator to ensure its freshness and quality. By following the proper storage guidelines, you can enjoy braunschweiger for up to two weeks, adding a delicious touch to your meals and snacks.
Storing Braunschweiger Properly
When it comes to enjoying Braunschweiger, proper storage is key to preserving its freshness and ensuring maximum flavor. Whether you're a fan of this rich and savory Liverwurst, or planning to incorporate it into your favorite recipes, understanding how to store Braunschweiger is essential. In this article, we'll explore the best practices for refrigerating Braunschweiger, including temperature and humidity considerations, as well as packaging and storage containers.
Best Practices For Refrigerating Braunschweiger
Refrigerating your Braunschweiger as soon as possible is crucial to maintaining its quality. Follow these best practices:
Place your unopened Braunschweiger in the refrigerator as soon as you bring it home from the store. Keeping it at a consistently cold temperature is essential to preserving freshness.
When opening the package, handle the Braunschweiger carefully to avoid any excessive exposure to the air. Excessive air exposure can lead to flavor loss and spoilage.
After each use, tightly reseal the package to prevent air from entering and accelerating spoilage. Consider using a plastic wrap or airtight container if the original packaging is not resealable.
Temperature And Humidity Considerations
The ideal temperature range for refrigerating Braunschweiger is between 32°F (0°C) and 40°F (4°C). Maintaining a consistent temperature within this range is crucial in preventing bacterial growth and extending the shelf life of the product.
While refrigerating Braunschweiger, it's important to consider the humidity levels as well. High humidity can encourage the growth of mold, while low humidity can lead to the product drying out. To maintain the optimal humidity for your Braunschweiger, store it in a refrigerator compartment that has a humidity control feature. Otherwise, consider using an airtight container or wrapping it tightly with plastic wrap to retain the natural moisture.
Packaging And Storage Containers
The packaging and storage containers you choose play a vital role in extending the shelf life of Braunschweiger. Follow these guidelines:
Always use the original packaging if it is resealable. The manufacturers design it to provide optimal protection from air exposure.
If the original packaging is no longer available or resealable, consider transferring the Braunschweiger to an airtight container. Plastic containers with a tight-fitting lid or zipper bags work well as storage options.
Ensure the container is clean and dry before transferring the Braunschweiger to prevent any cross-contamination or moisture retention.
Label the storage container with the date of storage. This will help you track its freshness and consume the Braunschweiger within a reasonable timeframe.
Following these guidelines will help you store Braunschweiger properly, ensuring it remains fresh and delicious for as long as possible. By safeguarding this German delicacy, you can enjoy the robust flavors and indulge in a variety of dishes.
Shelf Life And Expiration Dates
Understanding the expiration dates on Braunschweiger packaging, factors that affect shelf life, and how long you can safely consume Braunschweiger past its expiration date are important considerations for any consumer. When it comes to perishable products like Braunschweiger, knowing the shelf life and expiration dates becomes crucial for maintaining food safety and quality.
Understanding The Expiration Dates On Braunschweiger Packaging
Braunschweiger packaging provides expiration dates to guide consumers on how long the product is expected to remain fresh and safe for consumption. These dates are typically printed on the packaging and may be labeled as "use by" or "best by" dates. It's worth noting that these expiration dates primarily indicate the period during which the manufacturer guarantees the quality of the product.
Expiration dates are determined through various factors, such as the production date, the processing method, and the ingredients used. Manufacturers conduct extensive testing to determine the optimal shelf life of Braunschweiger based on its specific characteristics and composition.
Factors That Affect Shelf Life
The shelf life of Braunschweiger can be influenced by several factors. Understanding these factors can help you better assess the freshness and safety of the product. Some of the key factors that affect the shelf life of Braunschweiger include:
Storage temperature: Braunschweiger must be stored at temperatures below 40°F (4°C) to preserve its freshness. The cooler the storage temperature, the longer the product will last.
Hygiene and cross-contamination: Proper hygiene practices during handling and storage can prevent the growth of bacteria and extend the shelf life of Braunschweiger.
Packaging integrity: Damaged or compromised packaging can lead to spoilage and reduce the shelf life of Braunschweiger.
Ingredients: The quality and freshness of the ingredients used in making Braunschweiger can impact its shelf life.
How Long Can You Safely Consume Braunschweiger Past Its Expiration Date?
Consuming food past its expiration date is a topic of debate and personal discretion. In general, it is advisable to adhere to the manufacturer's advice and consume Braunschweiger before the indicated expiration date to ensure optimal freshness and safety.
However, if the Braunschweiger has been stored properly and shows no signs of spoilage, it may still be safe to consume for a short period of time after the expiration date. It is essential to assess the smell, texture, and appearance of the product before consuming it. Any unusual odor, discoloration, or change in texture could indicate spoilage, and in such cases, it is best to discard the product.
Ultimately, it is crucial to prioritize food safety and follow the manufacturer's guidelines when it comes to the shelf life and expiration dates of Braunschweiger. By understanding the expiration dates, considering the factors that affect shelf life, and using your senses to assess the product, you can make informed decisions about consuming Braunschweiger past its expiration date.
Signs Of Spoilage
When it comes to preserving food, it's always important to know how long different products can last in the refrigerator. Braunschweiger, a type of liver sausage, is no exception. Despite its rich and savory taste, this delicacy is not immune to spoilage. In this section, we will explore the signs you need to look out for to ensure your Braunschweiger is still safe to consume.
Identifying Common Signs Of Spoilage In Braunschweiger
Just like any other perishable food, Braunschweiger can exhibit signs of spoilage when it is no longer suitable for consumption. By promptly recognizing these signs, you can prevent any potential health risks. Here are the key indicators:
Smell, Appearance, And Texture Changes To Look Out For
One of the most evident signs of spoilage is an unpleasant or off-putting odor. Fresh Braunschweiger typically has a distinct, aromatic smell. However, if you notice any sour, rancid, or otherwise unpleasant odors, it is a clear indication that your Braunschweiger has gone bad and should not be consumed.
In addition to the smell, changes in appearance and texture are also good indicators of spoilage. Fresh Braunschweiger has a smooth and moist texture, with a color that ranges from light to dark brown. If you notice any mold growth, sliminess, discoloration, or an excessively dry or crumbly texture, it's best to discard the product to avoid any potential health risks.
Is It Safe To Consume Braunschweiger If It Shows Signs Of Spoilage?
When it comes to food safety, it is crucial to adopt a zero-tolerance policy. Consuming spoiled Braunschweiger can lead to foodborne illnesses, such as bacterial infections or food poisoning. Even if the signs of spoilage are minimal, it is not worth the risk to consume it. Always prioritize your health and discard Braunschweiger if it shows any signs of spoilage.
To summarize, when inspecting your Braunschweiger for spoilage, pay attention to any distinctive odor, changes in appearance, and abnormal textures. If you notice any of these signs, it's best to err on the side of caution and dispose of the product. Remember, it's better to be safe than sorry when it comes to food safety.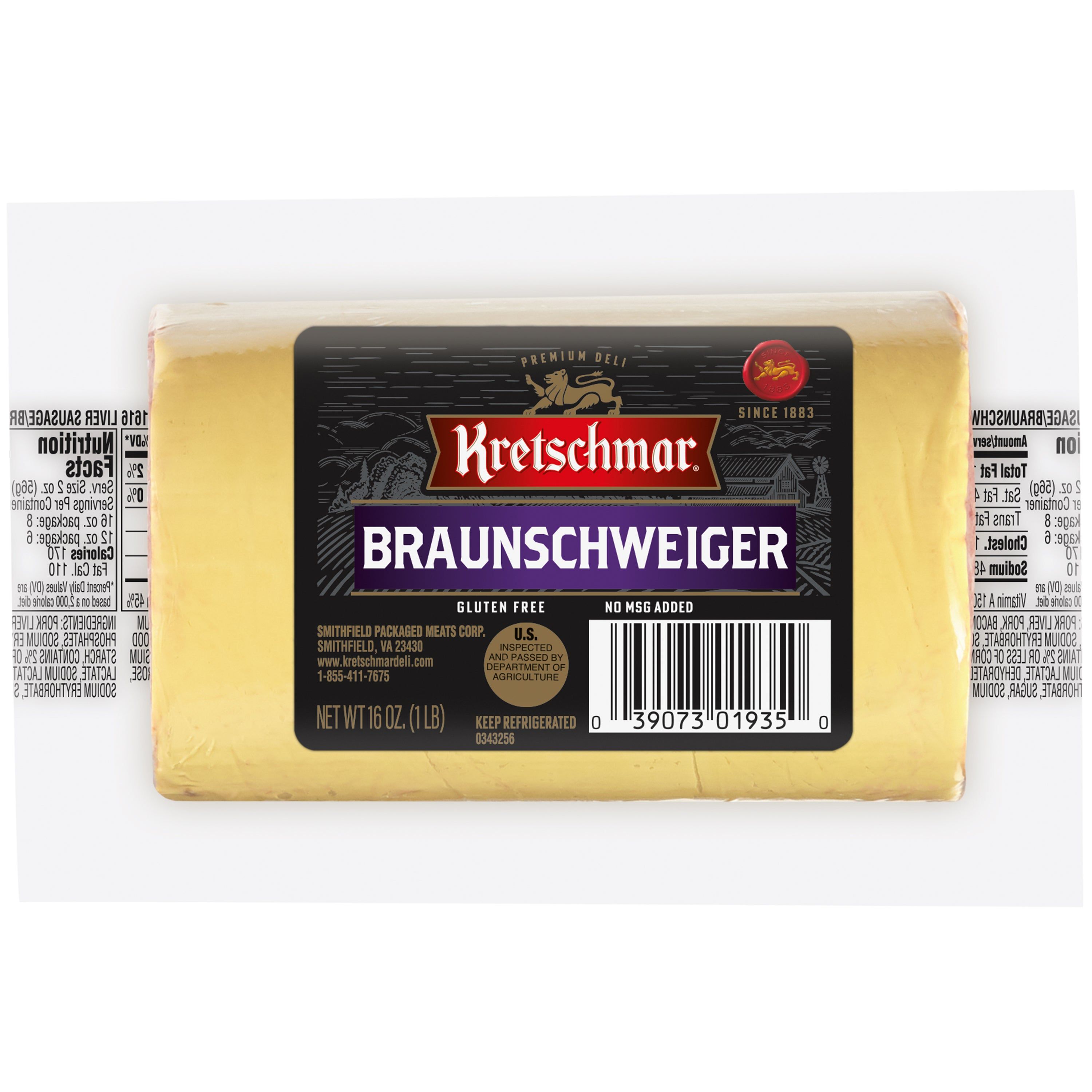 Credit: kretschmardeli.sfdbrands.com
Extending The Shelf Life Of Braunschweiger
Braunschweiger, a type of smoked liver sausage, is a delicious and versatile addition to any meal. Whether you enjoy it as a spread on your morning toast or as a protein-packed ingredient in your savory recipes, you want to make sure that it stays fresh and flavorful for as long as possible. In this article, we will explore some tips and techniques to help you maximize the freshness and longevity of Braunschweiger. We'll also answer the burning question: can you freeze Braunschweiger to prolong its shelf life? Read on to find out!
Tips For Maximizing The Freshness And Longevity Of Braunschweiger
Proper handling and storage are crucial for extending the shelf life of Braunschweiger. By following these tips, you can ensure that your sausage stays delicious for an extended period of time:
Keep it refrigerated: Braunschweiger should be stored in the refrigerator right after purchasing or opening the package. Keep the sausage in its original packaging or transfer it to an airtight container to prevent exposure to air and other contaminants.
Check the expiration date: Before consuming or storing Braunschweiger, always check the expiration date on the package. Consuming the sausage beyond this date can lead to foodborne illnesses, so it's important to be mindful of the product's freshness before indulging.
Use clean utensils: When serving or handling Braunschweiger, make sure to use clean utensils to prevent cross-contamination. Dirty knives or spoons can introduce bacteria into the sausage, shortening its shelf life.
Proper Handling And Storage Techniques
To prolong the shelf life of Braunschweiger, follow these techniques for proper handling and storage:
Wrap it tightly: If you plan on storing the sausage within its original packaging, make sure it is tightly wrapped to prevent air from entering. Alternatively, transfer the sausage to an airtight container, removing any excess air before sealing.
Store at the right temperature: Braunschweiger should be kept at a temperature between 32°F (0°C) and 40°F (4°C). Ensure your refrigerator is set at a suitable temperature range to maintain the freshness and quality of the sausage for a longer period.
Avoid temperature fluctuations: Fluctuating temperatures can accelerate the spoilage process of Braunschweiger. Avoid placing the sausage in areas of the refrigerator where the temperature changes frequently, such as near the door.
Can You Freeze Braunschweiger To Prolong Its Shelf Life?
Yes, you can freeze Braunschweiger to extend its shelf life. Freezing the sausage is a great option if you have more than you can consume within a reasonable timeframe. To freeze Braunschweiger:
Wrap tightly: Wrap the sausage tightly in a freezer-safe bag or plastic wrap to prevent freezer burn and maintain the quality.
Label and date: Remember to label and date the package to keep track of its freezing time. Sausages can be stored in the freezer for up to three months, but the taste and texture may start to deteriorate after that.
Thawing: When you're ready to use the frozen Braunschweiger, thaw it in the refrigerator overnight. Avoid thawing at room temperature to prevent bacterial growth.
By following these tips for proper handling, storage, and freezing, you can enjoy the rich and savory taste of Braunschweiger for an extended period. Remember to always practice food safety and be mindful of the expiration dates to ensure the highest quality and freshness.
Safe Consumption Practices
Braunschweiger is a type of liver sausage known for its rich flavor and smooth texture. It is a popular choice for sandwiches and appetizers. However, it's important to practice safe consumption practices to ensure you and your guests' well-being. Here are some guidelines to follow when enjoying Braunschweiger:
Guidelines For Consuming Braunschweiger Safely
Check the expiration date: Before consuming Braunschweiger, always check the expiration date on the package. This ensures that the product is still fresh and safe to eat.
Follow proper storage: To maintain the quality and freshness of Braunschweiger, it should be stored in the refrigerator at all times. Make sure to keep it in its original packaging or airtight container to prevent contamination.
Keep it chilled: Braunschweiger should be kept at a temperature below 40°F (4°C) in the refrigerator. This helps slow down bacterial growth and extends its shelf life.
Use within recommended time frame: Once opened, Braunschweiger should be consumed within 3-5 days. This timeframe ensures that it is still safe and flavorful.
Inspect for signs of spoilage: Before consuming Braunschweiger, examine it for any changes in color, texture, or odor. If it appears discolored, slimy, or has a pungent smell, discard it immediately.
Precautions To Take When Serving Braunschweiger To Guests
When serving Braunschweiger to guests, it's vital to maintain food safety standards. To ensure the well-being of your guests, take note of the following precautions:
Proper hygiene: Before handling Braunschweiger or any food, wash your hands thoroughly with soap and water. This helps minimize the risk of cross-contamination.
Clean serving utensils: Use clean utensils, knives, and cutting boards when handling Braunschweiger to avoid introducing any harmful bacteria.
Separate from raw foods: Keep Braunschweiger separate from raw meats or poultry to prevent potential cross-contamination. Store them in separate containers or use different cutting boards and knives.
Chill properly: If serving Braunschweiger as part of a buffet or a gathering, make sure to keep it refrigerated until ready to serve. Provide a chilled platter or bowl with ice to maintain its freshness.
How To Properly Discard Leftover Braunschweiger
When you have leftover Braunschweiger that you need to discard, it's essential to dispose of it properly to prevent any potential foodborne illnesses. Follow these steps to ensure safe disposal:
Seal it tightly: Place the remaining Braunschweiger in an airtight container or wrap it tightly with plastic wrap. This prevents odor and cross-contamination with other foods.
Identify and label: Clearly label the container with the name and date of the leftover Braunschweiger. This helps you keep track of its age and ensures you don't accidentally consume expired food.
Place in the trash: Discard the sealed container of leftover Braunschweiger in a trash bag. Tie the bag tightly before disposing of it in a covered trash bin to prevent attracting pests.
By following these safe consumption practices, you can enjoy Braunschweiger deliciously while prioritizing food safety and the well-being of yourself and your guests.
Frequently Asked Questions For How Long Does Braunschweiger Last In The Refrigerator
How Long Does Braunschweiger Last In The Refrigerator After?
Braunschweiger typically lasts for about one week in the refrigerator. It is best to consume it before the expiration date on the packaging. Keep it well-sealed in airtight container to maintain freshness.
How Long Does Deli Liverwurst Last In The Refrigerator?
Deli liverwurst typically lasts for about 5-7 days in the refrigerator.
Is There A Difference Between Liverwurst And Braunschweiger?
Liverwurst and Braunschweiger are similar types of German liver sausages. The main difference lies in their origin – liverwurst is more commonly associated with northern Germany, while Braunschweiger originated in the city of Braunschweig. However, both sausages are made from pork liver and have a similar smooth, spreadable texture.
Is Braunschweiger Fully Cooked?
Yes, Braunschweiger is fully cooked and ready to eat. It is a type of liver sausage that has been smoked and cured during the cooking process.
Conclusion
To ensure the longevity of your Braunschweiger in the refrigerator, proper storage is crucial. Keep your Braunschweiger tightly wrapped or sealed in an airtight container to prevent it from drying out or absorbing other odors. With the right storage conditions, Braunschweiger can last up to two weeks in the refrigerator.
Remember, always use your judgment and trust your senses: if it smells off or has an unusual appearance, it's time to discard it. Happy and safe indulging!
Amazon and the Amazon logo are trademarks of Amazon.com, Inc, or its affiliates.